For those that are unfamiliar with the In Memory Plaque as a Memorial

In April 2000, the U.S. Congress authorized the Vietnam Veterans Memorial Commemorative Plaque, also known as the In Memory Plaque, to be added to the three-acre Memorial site on the National Mall. The plaque is intended to honor those Vietnam veterans who died after service in Vietnam, but as a direct result of that service, and whose names are not eligible for placement on the Memorial because of Department of Defense policies.

The 24-inches tall by 36-inches wide plaque is a simple granite stone placed within the northeast corner of the Three Servicemen Statue Plaza. It was dedicated on November 10, 2004.

The inscription reads:

"In memory of the men and women who served in the

Vietnam War and later died as a result of their service.

We honor and remember their sacrifice."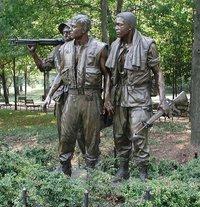 Although we are honored to say that The Quilt Of Tears was used in the dedication ceremonies for The In Memory Plaque in 2004 it is with great concern & compassion for family members along with their friends that visit the In Memory Plaque today. The plaque was beautiful upon it's dedication but today, only a few years later the plaque has not 'weathered well' at all.  It's lettering is quickly eroding due to weather & people always walking & standing on it. The plaque is not elevated even by a few inches, it lays flatly & flush to the walkway near it with no barrier of any type which inevitably does not prevent people from constantly walking & standing on it. Water also pools on it when it rains, which also adds to it's poor condition.  I encourage anyone who cares about the Veterans that the In Memory Plaque represents to join with us at A/O Victims & Widows Support Network to try to correct the condition of this  national memorial that represents so many thousands of American heroes.

This  needs to be  corrected!

For those that are unfamiliar with the area:

The Orange star is the East Knoll

The Blue star is the In Memory Plaque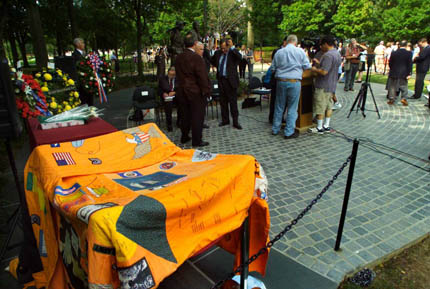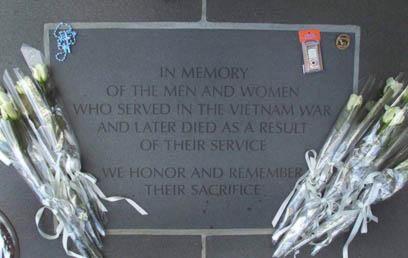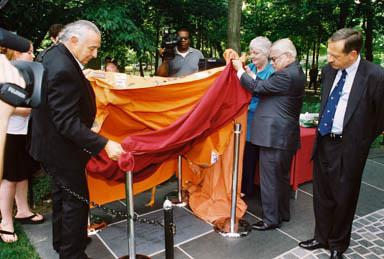 Please read to the end for an important message & request for help!